Program Management
FleetCor provides turnkey outsourcing of your entire fuel card program through its program management offering, enabling you to focus on your core business of selling fuel.
We have a proven track record, operating our own fuel card programs as well as those of our partners worldwide. FleetCor understands the requirements to run these businesses effectively and efficiently. We dedicate all of our resources and attention toward the fuel card business. It's all we do.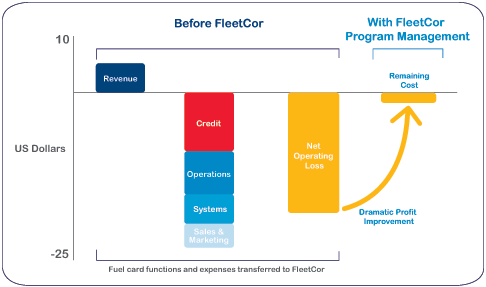 FleetCor optimizes your fuel card portfolio, identifying the most effective opportunities for growth. Our fuel card expertise allows you to simplify your operations by divesting your non-core assets, allowing for the redeployment of capital and resources, and a reduction in headcount. In addition, you will continue to benefit from your branded card program through increased account volume and greater customer loyalty.
FleetCor's program management offering drives portfolio growth and improves operational efficiency, enabling you to focus on your core business activities.