Global FleetNet (GFN)
Purpose-built for commercial portfolios, FleetCor's Global FleetNet (GFN) fuel card management system brings a unique set of capabilities to the world of commercial fuel cards. Its feature functionality is available "out of the box," seamlessly integrating with your existing systems and allowing you to evolve your current technology without impacting customer delivery.
GFN's multi-client processing solution provides economies of scale with regards to maintenance, development, and infrastructure costs, and ensures an ongoing, market-driven development approach.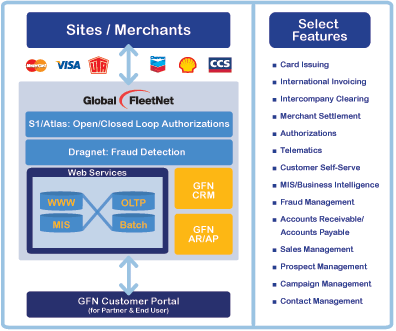 Operating on a reliable, flexible, and scalable .NET platform, GFN utilizes the most up-to-date technology, which ensures its capabilities surpass any legacy system older than three years. In addition, GFN meets emerging technology and data standards, and is equipped to anticipate and absorb tax and regulatory changes.
Having performed 40 migrations over the last 10 years, you can rest assured FleetCor's highly qualified project managers and IT staff, and best-in-class methodology will efficiently convert your fuel card program.